With increasing costs and pressure to improve on business metrics the engineering services companies are looking beyond their domain to provide best in class services, to help businesses gain a competitive advantage in the business domain. The term engineering services refer to any creative work or service whose sufficient performance needs engineering education, experience, and training in the approach of specified knowledge of the physical, mathematical and engineering sciences to such creative work in the form of consultation, evaluation, planning, investigation, and designing. We at NICA, belong to the list of established engineering services companies which are committed to giving our customer full engineering and after-sales services.
Why choose us?
We are a one-stop solution provider for all kinds of engineering services and over the years we have been acknowledged for our professional care. We reach out to our clients in all stages of planning, designing and installation work until delivery and endeavor to provide best of service through our team of engineers. With our rich experience, we have developed as a professional working partner of many Automotive, Touch Panel, PCB/Substrate, Hydraulic Cylinder, Surface finishing/ Plating on Plastics manufacturers across the region.
Effective Product Lifecycle Management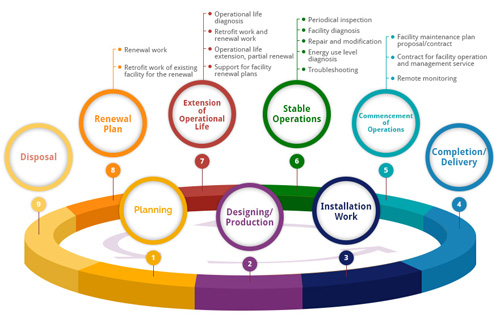 We offer our clients highest level of support during the life cycle management phase. We perform planning, production, installation, completion, commencement of operations, stable operations, an extension of operational life, renewal plan and disposal. During the commencement of operations phase, we lay down facility maintenance plan or contract along with contracts for effective facility operation and management and remote monitoring facilities. In order to ensure the smooth running of the facility, we conduct a periodical inspection, facility diagnosis, repair and modification, energy use assessment and troubleshooting. To make your facilities work longer we indulge in operation life diagnosis to find any issue arising. We also undertake retrofit and renewal work and provide support for the same to provide operational life extension.
Moreover, we handle any personalized equipment in accordance with customer's requirement. We endeavor to deliver all equipment with faster lead-time, to ensure smooth functioning of your business. Our team of experts even indulges in problem-solving, so if you want any suggestion, we are here to provide you with correct solutions. We commit to conduct a detailed site survey and technical reviews prior to the execution of the project to ensure there is no issue while developing the project.
We are committed to safety and thus perform comprehensive factory and site acceptance testing of equipment to combat any issue arising with the equipment and rectify it at the earliest. We are a customer-oriented team of service providers and we ensure that our customers can contact us anytime of the day or night. So, we provide our customers 24×7 support from our experienced trained professionals and indulge in a regular visit to the customer site. The quality of our work can be assessed from the successful projects we have delivered in various MNC's which includes some big names in the industry. We are committed to providing our customers the best service and for this, we continuously improve ourselves and stay updated in conjunction with industry practices.